The traveling report of Fast-Ferry boarding from Piraeus


As soon as when we got a news that NEL Line launched new Piraeus Cyclades service
by using a new large fast ferry named Aeolos express in May we despatched a reporter to Greece.
Our reporter obtained many useful information through onborad checking in begining of June with
many digital photograph and Video and it's described hereunder mainly for Japanese traveler.
This Alstom Leroux Naval built Corsaire 12000 type fast ferry is propelled by
four SEMT PC 20PA6BSTC type engines as a first time installation for fast ferry and
it's a another interesting point for the peoples in this industries.
These 8,100 KW engines give a service speed of 36 knots.
Up to the date, there is only conventinal ferry service in the route and it takes several hours of time
to Mykonos from Piraeus and it made many Japanese traveler to give up using ferry .
We believe this onboard report of Piraeus-Syros - Tinos -Mykonos route will be helpful not only
for Japanese travelers but also every peoples who wish to travel by sea route..


( boarding )

A service route and a timetable (June.2000)

Piraeus 08: 30-Syros 11:00- 11:40-Mykonos 12:10/13:00-Tinos13:20- Syros 13:50-Piraeus 16:30

How to buy a ticket and how to go onboard .

Passengers should buy a ticket at the travel agency of NEL line in the place of
a piraeus port bus terminal. and It's not so difficult if they refer a follwoing photograph

Boarding is to be carried from a stern ramp way of the ship and after putting a big luggages in the store on cardeck passenger goes to the cabin deck by escalator.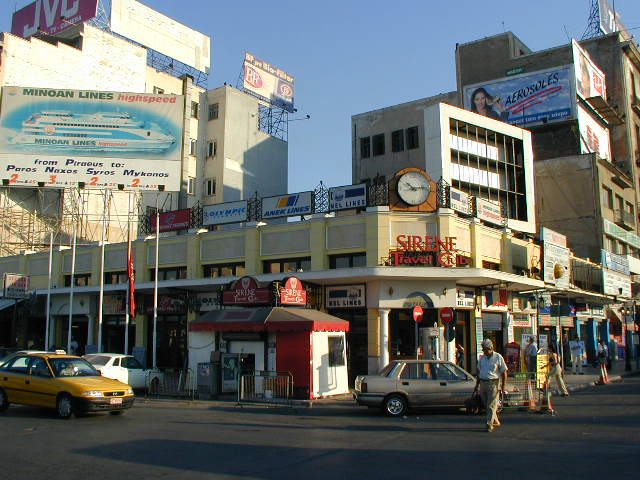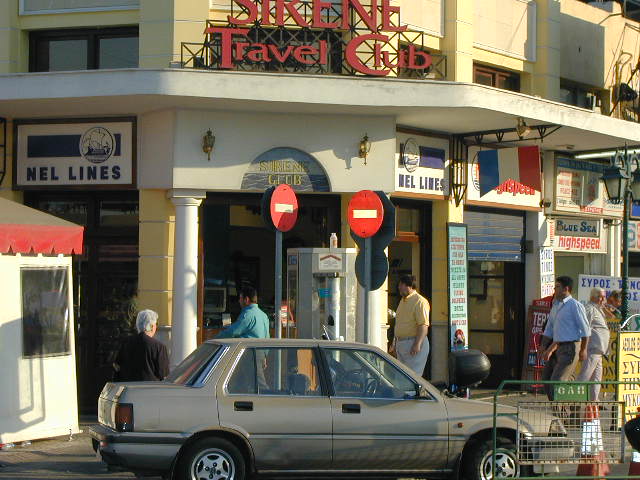 ---
Cautions!
Entirely, inboard, since change or purchase of a ticket cannot be allowed,
any passengers who want to change a destination they need get off at the port of destination of
the ticket once and should buy again from the agency of NEL .
And since the sales representative who had even the bag in the quay at which even
the Mykonos island and it purchases from him .
---
I understand that a timetable and a price list were unavailable at there in June and
therefore we could not obtaine full fare list but partial actual fares mentioned below. .

Fares

If it is an economy class between Piraeus-Mykonos 8,000 drachmas and Syros-Mykonos 2,300 drachmas . Incase of business class between Piraeus-Syros was 9,800 drachmas.

Economy or business?

Although a seat reclining is larger and it is somewhat widely calm in case of business class
if compared with the conomy class I could recommend an economy class from cost.
While it sits on the sheet of the sofa style near the bar in an aft. economy class cabin and
something is eaten [ drinking ] It is the best to enjoy a scene a lthough limited seat numbers. .