NEL line and their new Fast-Ferry


NEL line company has been operated five conventional type ferries
until when introducing new Fast-Ferry on the Aegean Sea
as one of Greek domestic shipping company.


---
First of all, it is seeing is believing!
Although it is the photograph of a model Ship

A ship's name is AEOLOS EXPRESS.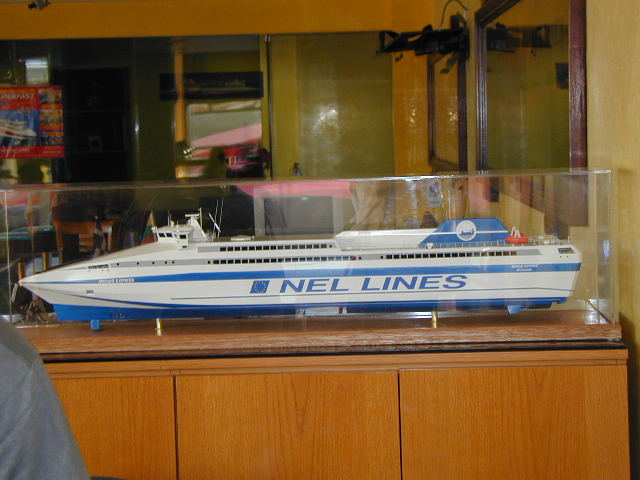 ---
Ship's Particular is a sfollows:

Length,oa:120m, Breadth: 15.7m. 210 passenger cars are can be carried
with 1,000 passengers at the speed of 36 knots (67km/h) .


To a those who want to know more in detail

This ship is called it Corsaire12000 type and having built
by GEC Alsthom Leroux Naval.
It is the same manufacture group which made
the subway vehicles of that London etc.
And as a sister ship, it is playing an active part in Gotland of Sweden,
the Corsica ferry of Italy, etc.
The feature is Monohull which secured rigidity to the hull using
the high-strength steel board and the aluminum alloy. .

To furthermore, people to know in detail

For stable sailing, she has furnished T foil at bow side
and two fins at stern.
And two bowthrusters is also installed and
which enable easy berthing to the wharf .