Barcelona communication
To those who travel to Barcelona


<> The casino request in the case of being emergency

Even if the place and airport which arrived at Barcelona in the feeling easy last week at night 21:00
could not find lodging but turned around ten hotels by taxi after that of course also at the Sants station,
they were useless and were troubled.

Future time and you of the schedule which goes need to reserve by all means, and need to go out!
I still teach a thing when emergency. It goes to a casino then and passes till 5:00 there in the morning.
since a cloakroom is also situated in inside.
Also there is no problem of a toilet and meals as well as for sleeping on a sofa.

<> Mac(Macdonald) of Barcelona

It's common sense for the traveler that they put Mac.to use it's toilet at any foreign counbtries.
and in Barcelona,too.
It's a recommendation here an original rib Mac + potato + coca cola set which is cheap
and about being delicious , cola, and a potato are double size compared with Japanese one .

Also Mac salad shaker (thing which says puts in and shakes a dressing) is recommendation to
the volume and the soft ice cream of L size!
Try right or wrong at once and be!

<> The safety and the taxi of Barcelona

Still, since a taxi is the country where riding together and the refusal to take the passenger
of night are natural, please put this on the head firmly.

Since it is cheap and is convenient, everybody uses comparatively.
It is safer for going out of night to have used the subway or to make it from a hotel on foot within the circle, since it was difficult for this to catch conversely especially rainy night.

It is taxi fare basic 370pts+ distance combined use 250pts by reference.

Although this country is proud of the highest economy growth rate(it will expect 4.3% 2000)
in Euro countries now, since there is a place where growth does not connect
with creation of employment and still high rate of younger age group's unemployment .
From the above mentioned point of view there is still dangerous in a mid night especially..


<> Marine Museum

Although it is seeing and turning around Marine Museum in the world, it goes into the best 3 here.
The ancient Galleon ship of the actual size exhibited at last right in the middle whatever it might call it,
although model collection and the exhibition thing of the ancient ship were also wonderful,
and this are the highlight !

Since explanation can be listened to by head phon (they are only English and Spanish), it is atmosphere perfect.
Since there are also three audio visual exhibitions of course, it is also the intelligible contents.

If you look around slowly, it needs 2 -3 hours as minimum , and Barcelona cannot be told
if there is no understanding of the town in Columbus and its maritime power house whatever it may call it,
although Gaudi is also as good as an ape.

a entrance fee is 800ptses.

Lower photographs are the model of a Galleon ship, and the Gaudi made streetlight
.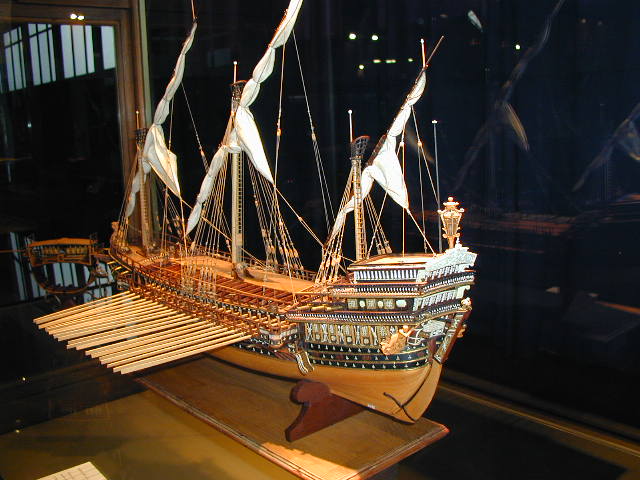 <> The most expensive cable car in the world?

A fare of cable car one-way 250pts / both-way 375pts for the hills of Montjuic .
Since a tunnel is (the underground connected at the station of cable car and a subway ) long, moreover,
a scene is not good and it's entrainment time for only 2 minutes, either.

Also,it's a unmaned system mean gurantee a most smart business in the world

The ropeway for the hills of Montjuic

It comes out of the station of a cable car, and is immediately in a right hand. Charge one-way 475pst /
both-way 675pst, and this are conversely cheap.
A whole view of the town in Madrid can be commanded by the small gondola type by
which only four persons can ride.Especially the scene by the sea side is most beutiful .
Since using a bus when it is a group tour, a scene is not in sight at all with regrettable.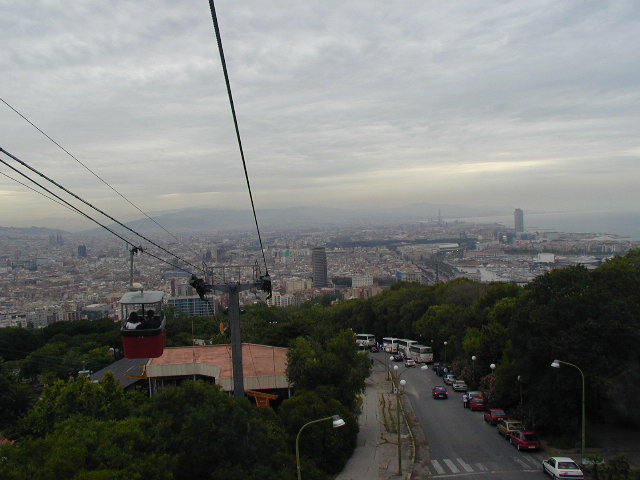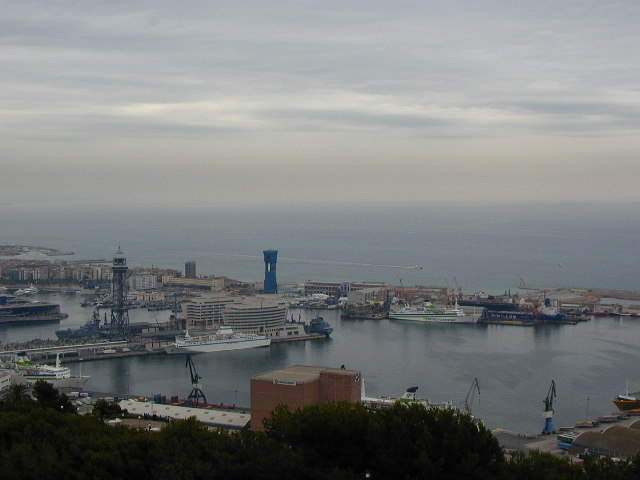 <> The unusual subway

if you may ride on subway the line of No. 2 of Barcelona, please see well the place which are vehicles and a driver's seat -- if a train stops at a station, a big rearview mirror will open and move outside while staying and then closes.
Moreover, by old vehicles, such as No. 4 and a No. 5 line, while the step had come out out of vehicles, it is running. It is an anyhow interesting subway.


<> It is Sagrada Familia whatever it may call it.

This charch is still under construction and unknown it's completion even if construction started in 1982.
Only that is estimated as the Barcelona from which a tourist is assembled and money also falls
and which was excellent in upper art in the meantime.
.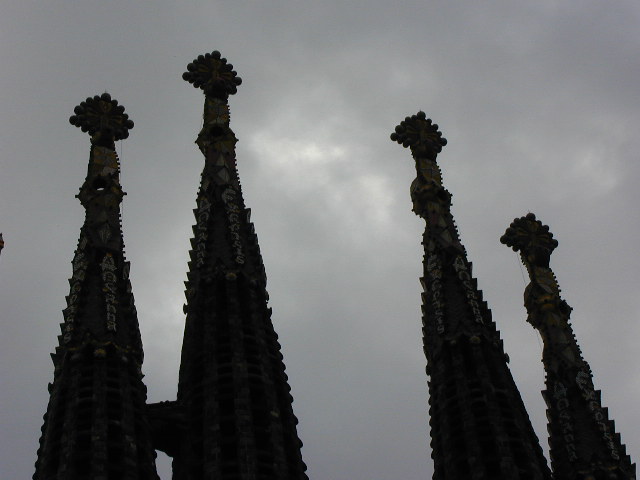 So much for today then -- Again